Enjoy the experience of a lifetime on the scenic waters of the Gulf of St. Lawrence!
In addition to the hands-on experience and excitement of catching fish, highlights include beautiful scenery and sunsets, marine life and bird sightings, an underwater camera, marine education and fun for the whole family!
Deep Sea Fishing Experience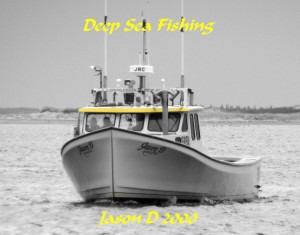 We're pleased to offer 3 trips per day, each one lasting about 3 hours. Deep sea fishing trips leave from our location in North Rustico, PEI.
8:30 am  – Morning sailing
1:00 pm – Afternoon sailing
5:30 pm – Evening sailing
Fishing trips start on July 1st and continue until the Sunday of Labour Day Weekend.
Our vessel, the Jason D 2000, is a 45′ fiberglass boat with a capacity of 18 passengers and their is a washroom on board.  It also features an underwater camera.
All fishing equipment including rods, reels, and rain gear are supplied and your catch is cleaned, filleted, and bagged for you.
Many types of fish are caught and the types you can keep include cod, mackerel, and herring.
Types of marine life that you may see include minkie, humpback and pilot whales, seals, dolphins and porpoises.  And you'll often get to see bald eagles, gamuts and seagulls.
To ensure the safety of guests, we have government inspected life rafts, life jackets, and ring buoys on board.  Our vessel is also government inspected and approved. Captains Jason and Jamie Doucette are certified Captains by the Canadian Coast Guard and Transport Canada with a combined 25 + years of experience.
Reserve your trip now
Here's the Lowther family's video of their deep sea fishing experience.